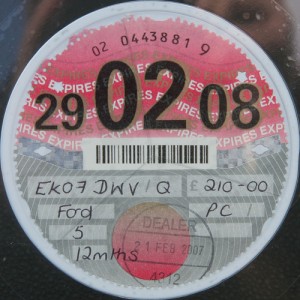 Being the mother to a newly qualified driver (one whom passed with A Pass 4 U).Thinking about cars, insurance, vehicle taxation and driving, is now on the agenda for the near future and on my very own visit to the Post Office this morning to renew my tax disc, it was interesting to be reminded that as of October 2014 the paper tax disc is to be completely scrapped.
Let me back track a little, first of all. As we stood in the queue, with everyone else, I held tightly to my insurance document and MOT certificate. Pushing them under the glass partition for the Post Office employee to cast a weary gaze upon it. To my surprise, they were passed straight back to me by the Counter staff.
"It's all gone electronic now." Was her response. "We can see it all online.You don't need to bring the paperwork anymore – it's all linked together. Electronic tax discs are on their way." This notion had me pausing for thought, for a moment and I wondered what the government had to say about this.
The government is changing the law in 2014 to reduce tax administration costs and burdens associated with vehicle tax.
The Department for Transport (DfT) made clear in its recent Motoring Services Strategy consultation that the government is committed to offering high quality and cost effective services to the public and businesses. DfT andDVLA have listened to the views of both businesses and the public to remove unnecessary burden and provide modern and efficient services to meet their needs. This includes getting rid of unnecessary paper where possible and making it easier for people and businesses to use government services.
Today (Thursday 5 December 2013), the Chancellor of the Exchequer announced that the government will change the law in 2014 to reduce tax administration costs and burdens associated with vehicle tax.
DVLA will offer motorists the ability to spread their vehicle tax payments should they wish to do so. For vehicle tax starting from 1 November 2014, motorists will be able to pay vehicle tax by direct debit annually, biannually or monthly. There will be no additional handling fees for annual payments but to limit the impact on the public finances there will be a small surcharge of 5% of vehicle tax for biannual and monthly payments. This is half of the 10% surcharge that is currently applied to 6 monthly tax discs and which has been in existence for a number of decades.
Also from 1 October 2014, the paper tax disc, first issued on 1 January 1921, will no longer be issued and required to be displayed on a vehicle windscreen. Vehicle tax will still need to be paid but with DVLA having a digital record of who has and has not paid, a paper tax disc is no longer necessary as proof that vehicle tax is paid. The vast majority of motorists pay their vehicle tax with latest figures confirming that over 99% of motorists' tax their vehicles on time… Most on-road enforcement action is now based on using Automatic Number Plate Readers. These cameras use the number plate rather than a visual inspection of the tax disc. The police also have access to DVLA records via the police national computer. There are significant savings for fleet operators and other businesses from not having to handle the administration of tax discs.
So here at A Pass 4 U, we thought we'd take a little journey back in time and look into the history of the tax disc in the UK before its demise later this year.
If you're ready, then I'll begin.
The History of the Tax Disc
Did you know that the idea of the road tax is actually a couple of hundred years old. No? Well how about taxes on roads? In Britain road tax has had to be paid by road users (whether they be on foot, horse or in a carriage) since before 1637. This was when the first vehicle taxation law was passed by the Government and it was hackney cabs that paid the price.
In 1747 the law was changed again and horse drawn carriages then had to adhere to being licenced.
In 1770 a tax for mechanically propelled  vehicle tax was introduced.
Law Affecting Drivers.
At the request of any police officer in uniform or of a person in charge of a horse, the driver should stop at the signal and remain stationary.( I found the horse information slightly unusual – anyone know the answer why?)
When the 1903 Motor Act came into effect all vehicles needed to be registered and these registration documents had to be displayed in a prominent position. The fee was five shillings.
By 1920 the road act required all councils to register the cars at the time of licencing and to allocate a unique number for each.
Buying a vehicle
From 1 October, when you buy a vehicle, the vehicle tax will no longer be transferred with the vehicle. You will need to get new vehicle tax before you can use the vehicle.
You can tax the vehicle using the New Keeper Supplement (V5C/2) part of the vehicle registration certificate (V5C) online or by phone – 24 hours a day, 7 days a week.
Alternatively, you may wish to visit a Post Office® branch.
To drive or keep a vehicle on the road you will still need to get vehicle tax and DVLA will still send you a renewal reminder when your vehicle tax is due to expire. This applies to all types of vehicles including those that are exempt from payment of vehicle tax.
You will be able to check the tax status of any vehicle online
The Counter staff at the Post Office informed me that as of yet, they have not received any further instructions as to how the cross over will happen and that Civil Enforcement Officers will have a reader, to enable them to check whether or not a vehicle is taxed.
Category
Tags