We are offering the chance to become a driving instructor for free! Read more about our exciting offer for Free Driving Instructor Training and the road to becoming a driving instructor below.
The road to becoming a driving instructor can be as flexible as you need it to be and can be arranged around your present work and life fulfilments. To be a successful driving instructor you will need just two things, good communication skills and the drive to build a successful career, everything else that you will need we can help to provide you with. The rewards that come from being a Driving Instructor far outweigh the obvious financial gains as you will be able to work around your life getting that work-life balance we all strive for, and of course, the sense of achievement that you will feel when one of your pupils passes their driving test is huge.
The process is be broken down into 4 steps:
Applying for your DVSA DBS check & to be added to the Driving Instructor Register.
Theory & hazard perception test.
Practical driving test.
Teaching test
You need to be aware that there are 2 types of driving instructors that teach learners, these are ADi's and PDi's. An ADi refers to a fully qualified Approved Driving Instructor and PDi refers to a Potential Driving Instructor (a trainee).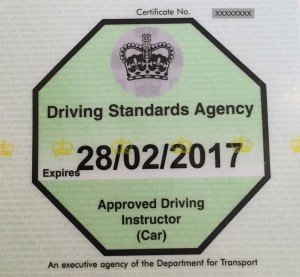 The Steps
1) Apply for a DBS check which will be sent to you and to the DVSA (Government) this can be done at https://www.gov.uk/criminal-record-check-become-driving-instructor.
2) Once you have received the DBS check you can then apply to be added the DVSA driving instructor register which again can be done online and the DVSA will issue you with a unique reference number. This is referred to as your URN or ADi No. All tests are then booked via a log-in that the DSVA will give you.
These first 2 steps have no cost but please remember the following:
Organisation Pin – 105205
Secret Word – axis
Organisation Name – DVSA-PDI (PO)
3) Now the hard work starts with the theory and hazard perception test. The theory is a 100 question multiple choice test and you have 1.5 hours to complete it. There are 4 categories and you must get at least 20 out of 25 in each section with an overall score of 85 out of 100. The categories are,
Road procedures
Traffic signs and signals, car control and pedestrians & mechanical knowledge
Driving test, disabilities and the law
Publications & instructional techniques
Following the theory test but at the same visit you will also take the Hazard Perception test which is taken with 11 clips and you must click the mouse when a potential hazard appears. You can see a video of how this works at https://www.youtube.com/watch?v=SdQRkmdhwJs
4) Once you have passed the part 1 test you can book and take the part 2 test which is a practical driving test during which you will be tested on:
Safety checks
General driving abilities
Manoeuvres
You will only be allowed to have 6 minor driver faults, no serious or dangerous during the hour test. You are only allowed 3 attempts at this test.
5) Finally and arguably the most difficult test is the part 3 instructional test. During an hour-long lesson, you will have a DVSA examiner sit in the back of your lesson and she/he will be looking for core competences to ensure that you are at the correct level. Before this happens we always recommend you take up a trainee licence where you can teach on the road for a period of 6 months whilst being sponsored by a driving school and obviously we are happy to do this presuming you meet our standards to teach. We are able to provide pupils etc. under our PDi franchise which is a very competitive monthly rate. Again you have 3 attempts at this test. You will be fully supported through every step of this process.
The overall process cannot take more than 2 years or you have to start all over again. 
How Free Driving Instructor Training Works
For a short period, we are offering training, study materials & lots of back up for a drastically reduced price of £850.00 which can be paid in stages to help spread the cost. If you stay with APass4U driving school for 18 months after qualifying we will refund all £850.00 without hesitation so you get your training for free. **This is only available for a short period & is subject to demand**
Aside from the cost of training the only other costs are,
Part 1 – Theory test – £81.00 (per attempt)
Part 2 – Practical test – £111 (per attempt)
Part 3 – Teaching test – £111 (per attempt)
Trainee licence – £140 (lasts for 6 months whilst preparing for the final test)
First ADi licence – £300 (last for 4 years once you have qualified)
Here at A Pass 4 U we are aware that you will need far more support than becoming a driving instructor so we are always here with support on other items such as:
Becoming self-employed
Accounts
Sourcing cars, insurance etc
Training areas
Driving Test protocols for your pupils
& lots more
Following on from this we are happy to guarantee a franchised position with APass4U Driving School which are subject to the usual franchise rates which are very reasonable.
If you have any questions or would like to organise to come and meet us for a chat about becoming a driving instructor and our Free Driving Instructor Training offer, please call Tony on 01702 308763 or email tony@apass4u.co.uk.
Category
Tags