New Year Resolutions
It's that time of year when a lot of people are nursing a headache from a New Year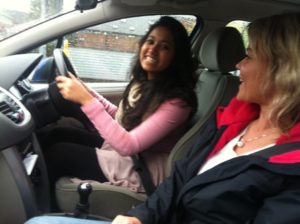 party or realising that hey are skint until the end of the month. For some it means a time of change, something new in their lives or something they want to change. May be lose weight, give up smoking or maybe learn something new, a useful life skill, like learning to drive. I suppose the question is why not? Gaining skills in life is getting harder and the tests are getting harder so if your only reason for getting your driving licence is to avoid a harder test a few years down the line, then I would suggest get it done soon.
 So what do you need to do?
 1) Decide how you want to learn to drive.
Do you have the time and the money to do an intensive driving course? Or do you need/want to learn on an hourly basis? The question really is do you have a lump some of money to pay in one go and do you have a week free to learn to drive? If you have then you will be able to do an intensive driving course and take advantage of the higher pass rates that come with it. If you haven't got the time or cannot afford to pay out in 1 lump sum then talking an hour or two a week will definitely be the best route for you.
2) Who do you learn with?
If you have someone that is personally recommended to you then that is probably your best option but be careful your friend isn't getting a commission etc for recommending people as the instructor may not be the best for you. There are 2 main types of instructor independents and larger schools, both have benefits. You will of course get a wider range of service and have more back up from a larger school. Make sure they cover the area you live in and that they teach the method in which you want to learn, whether that be hourly lessons or an intensive driving course. The main thing you need to check is that the driving instructor is a fully qualified driving instructor and you will know this by the green badge displayed in their car.
3) Listen and learn.
As long as you take on board all that the instructor teaches you shouldn't have to many issues but remember if you are not happy swap instructors
but don't change just because someone is offering cheaper lessons as you will need to spend money on getting used to a new car and teaching techniques. Just because a deal looks good doesn't mean it is but on the flip side if you are not happy with the service don't stay with them just because they are a nice person. You will pay a lot of money to learn to drive and you deserve a good service.