No it's not a typo –  I genuinely mean it. Does driving make you Appy?
I have to admit that I love watching TV and going to the Movies but don't always appreciate adverts. Yet when I saw this particular one for Take the Aviva Drive Challenge – relating to a possible reduction in car insurance. If you pay over £200 a year and most learners and newly passed definitely do! I decided that it was worth a look. Checking out the website to find out exactly what needed to be done.
Now, as I don't go very far when I drive but knowing my former driving instructor husband (who is a very qualified, experienced and safe driver) was commuting to a location over 24 miles away for a little while. I thought he would be the perfect candidate to try out the app for me, as he would quickly clock up the mileage needed.
The App was easy to download and with an autostart feature it meant that Vince didn't have to think about turning it on, when he set off each day on his journey. Nor did he have to worry about it recording my driving instead when I drove, because you can delete any irrelevant drives, which show up on the app before it updates the information.
It looked colourful, fun and was easy for us both to understand quickly. (Fun and colourful – I'm a sucker for those two things!) I know when I used it, I actually looked forward to finding out more about my driving and it consciously had me reminding myself to check the speed limit of the road and think about my cornering and braking on each journey. As you can see Vince is a smooth accelerator…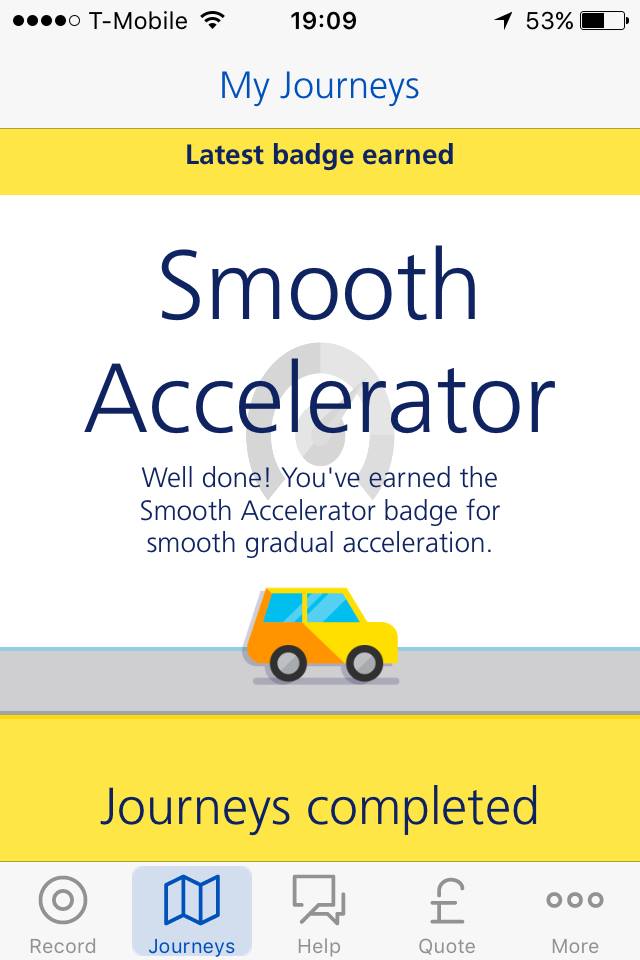 This free driving app, at the end of 200 miles, rates your driving and gives you an individual score out of 10.
I think it is something which would be great fun to do alongside your friends or family, to compare the difference in your driving. For just a bit of fun – but with a serious side note. Safer drivers scoring more than 7.1 could save an average of £150 on Aviva Car Insurance.
REMEMBER: Always do your research before buying car insurance and check out different companies. Ask your friends who they use and what their terms and conditions are, before purchasing one for yourself. Then you can get the best value with the greatest cover for your needs. When we started looking at car insurance for our son at age 19, it could show up as high as £10.000 a year online but he eventually paid around £1000 to be fully comprehensive. A big difference.
Use this app for a bit of driving fun and to find out what you could save with this company but always check out the competitors as well!
Category
Tags