Once all the hard mental work of learning the theory to pass the first part of your driving test is over and all the hands on work and hard earnt money spent, which goes into passing the practical driving test is done. Is buying your own car the next thing on your to do list?
What to look for when buying your first car
Buying and running a Car is expensive and a responsibility – the driving around in it, is just the fun part. So here are a few points to consider when thinking about buying your first car.
One of the most costly things you will have to pay out for initially, is your Car Insurance. Now it really is worth taking the time and effort to get online and on the phone, to check out who offers you the best deal, with most value for money. Working out what to look for in a new car suitable to your needs, will help you decide on what make, age and model to go for. Remember to check out your job description with the insurance companies. Depending on what you do, you may sit in more than one category, which could affect the cost of your insurance. Also check out the excess on the policy – it needs to be manageable to pay, if an accident does happen and you want to get back on the road quickly.
Sometimes a slightly higher excess can mean a slightly lower insurance
There are some very good car dealers out there and there are also some who increase significantly the cost of a car, when you buy it off a forecourt. So it is worth checking out the prices of the kind of car you are looking for: on Autotrader, Ebay and in your local newspaper. Then compare them with the cost of a buying the car off the forecourt. Deciding what car to buy also affects how much your insurance will cost. So think further than your image when choosing.
Here are a couple of ideas from AutoExpress for the First car. Although the cars shown are new. Yours doesn't have to be, if you don't have the financial means to buy one. Consider the age and mileage with the cost on buying.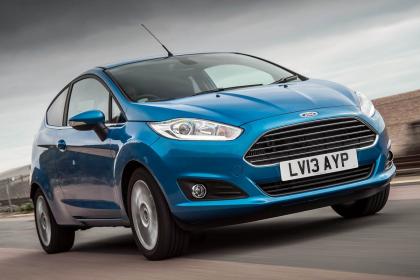 Buyers with a bit more to spend on their first car should consider the Ford Fiesta. The price is higher than for some of the city runabouts in our top 10, but the three or five-door Ford offers a lot for the money.
Not only is it easy to drive, and great fun, too, the Fiesta scores with its raft of safety tech. This includes the clever MyKey system, which allows concerned parents to restrict the maximum speed and stereo volume when their children are behind the wheel. There are also features seven airbags and ESP, plus optional autobrake.
Young drivers will be wowed by the technology the interior offers, including SYNC voice activation, while Style models upwards get air-con. The larger dimensions mean they can also carry friends in comfort, and the 276-litre boot size expands to 960 litres to swallow lots of luggage.
Diesel models return the lowest fuel consumption, but the cheaper EcoBoost petrol versions are reasonably efficient, returning up to 66mpg, and some are also exempt from road tax. Go for a lower-powered Fiesta, and it'll sit in a competitive insurance group, too, while the huge Ford dealer network makes it easy to keep up with the 12,500-mile service intervals and get any problems resolved.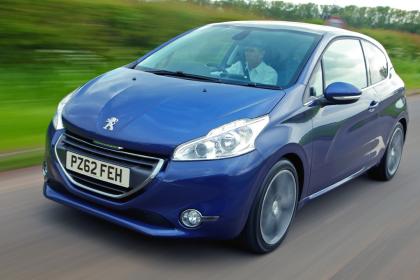 Look out for deals on the Peugeot 208 if you're in the market for your first car, as the brand is often running free insurance and zero per cent finance offers for drivers as young as 21.
Even without those incentives, the three or five-door 208 is a strong choice for young drivers. Entry-level VTi petrol models not only carry a great-value price, they sit in insurance group five or six, promise fuel consumption as low as 66mpg and have longer, 20,000-mile service intervals. Road tax is free, too, as it is on the more efficient but more expensive diesels. But whichever you go for, you can roll your insurance, servicing and road tax into a single monthly payment with the Peugeot Just Add Fuel offer.
The 208 is fairly well equipped, with Active models upwards getting a seven-inch touchscreen. Safety kit is comprehensive, too, with ESP on all models. And the neat dimensions disguise a fairly spacious cabin, so four adults should have no problems getting comfortable. Boot size of 285 litres isn't bad for a supermini, either.
It's just a shame the interior isn't easier to get on with. And while the 208 handles well, it's let down by a vague manual gearbox and lifeless steering. Auto Express
Check out AutoExpress.co.uk for their Top Ten First Time Buyers Cars
CHECKING OUT A CARS DRIVABILITY
When Buying Your first car, take someone with you who has more experience, if you can. They can help you go over the car to check out for obvious signs that things may not be right. A test drive is a good idea, to get you out on the road and see how it handles. You don't want any crunching of the gears, or slipping of the clutch. Listen for rattles and noises and how the car holds onto the road. Check the tyres – if the tred is too low and you have to replace these quickly, then this can add to the cost.
The AA and RAC both offer Vehicle Checks which can provide peace of mind when buying a car. They can do a road test, under body check, they even offer a selection of mechanical inspections. Follow the above links to find out what more they offer and also to get an idea for what you should be looking for, thinking about or doing when buying a car.
and finally
TAX DISC:When you buy a car-a tax disc is no longer transferable, so remember to keep the cost of this in your budget!
Category
Tags