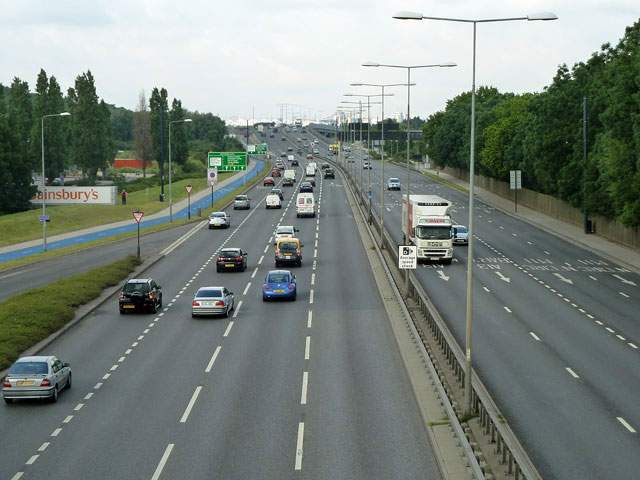 A13 towards Central London (Robin Webster) / CC BY-SA 2.0
Driving from Southend on Sea to visit the SkyGarden in London last week, I began to think about how, as a Learner Driver, you manage the middle lane. We were driving into London on the A13.
Learner Drivers can drive on all roads in the UK except motorways.
I began to notice what has become commonly known as 'the middle lane hogger,' as we drove along and thought it might be worth going through the process, of how to deal with a middle lane, when driving.
As you approach a section of road which has three lanes, naturally you should already be driving in the left hand lane. You should be planning your driving route – with the intention of driving in the left hand lane.
In the UK, we drive on the left hand side and that is to be kept to mind at all times.
When you need to overtake, you check in your mirrors, in good time. Making sure it is safe. Signal, if you feel confident enough, glance over your right shoulder to take a quick look where you blind spot is and check there are no vehicles and then pull out.
Now you are in the middle lane. What should you do next?
Now you are there, you don't want to be staying in the middle lane. Unless you are continuing to overtake other vehicles in the left hand lane. Even if there is nothing in that middle lane in front of you. As a Driver you are required to return to the left hand lane, as soon as possible. Driving in the middle lane can be a cause of frustration to other drivers around you. It can also mean that other drivers may think it necessary to undertake, to manoeuvre their way out of the situation.
Rule 138 of the Highway Code states:
On a three-lane dual carriageway, you may use the middle lane or the right-hand lane to overtake but return to the middle and then the left-hand lane when it is safe.
Although the video above has been filmed on a motorway. The middle lane principle stays the same.
Why do people hog the middle lane?
comfort
avoiding manoeuvres
thinking its safer
arrogance
uneducated
there are many reasons.
You can be fined £100 for hogging the middle lane in the UK
Keep to mind the rules of multi-lane driving and if you are feeling unsure or nervous about the prospect of driving on a motorway or a multi-lane carriageway, then speak to your A Pass 4 U Driving Instructor and they will arrange a lesson with you, where you can experience what multi-lane driving is like, before going on a motorway alone once you have passed your test.
Category
Tags