Brentwood Driving Crash Course Success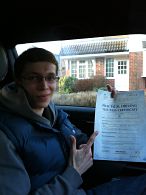 This is the very happy Dominic Brindle who recently passed his driving test in Brentwood with his A Pass 4 U driving instructor Kealey Fursedonn.
At the beginning of the test the examiner asked Dominic "would you like your instructor to come with us" Dominic replied "No don't worry I'll see Kealey when I've passed". Excellent, we all like confidence. I just wish we could bottle it.
Well done Dominic !