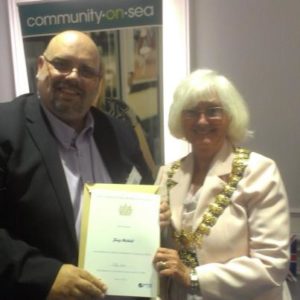 Congratulations to Tony (The Boss) Mihill who this week received an award from Southend Borough Council. This is Tony receiving his Diamond Jubilee Community Champion Award from the Mayor of Southend Sally Carr.
Tony was nominated by the Social Services team within Southend Council for his work teaching the young adults in care to drive for free. When asked he said "I was born in Southend, I live in Southend and if I can I will give something back to Southend, I will". Tony has donated many hours of his own time on driving courses for the young adults of Southend and so deserves this very well earned recognition.
Well done Tony and keep up the great work.