Driving in snowy winter conditions can be intimidating for any driver whether they are a learner, newly qualified or have held a full licence for many years. So, here at APass4U, we have put together some top tips to help you battle these unique driving conditions.
Before you set off:
You MUST be able to see clearly. You will need to remove all snow and ice off your vehicle including the mirrors, windscreens and windows.
You MUST ensure that all your lights and the number plates are clearly visible and legible.
After clearing all the snow/ice off your windows, you will also need to ensure that these are thoroughly demisted.
You will also need to remove any snow that may fall off into the path of other road users during your drive (from the roof of your vehicle etc.).
Check your planned route to ensure that there are no delays and that no further snowfalls or severe weather conditions are predicted.
When driving in snowy or icy conditions:
Be cautious! Drive with care, even if the roads have been treated.
Keep well back from other vehicles as stopping distances can be 10 times greater than on dry roads.
Be prepared for road conditions to change over relatively small distances.
When roads are icy, avoid any sudden actions as these can lead to a loss of control.
You should drive at a slow speed in as high a gear as possible; accelerate and brake gently.
Check your grip on the road surface when there is snow or ice by choosing a safe place to brake gently. If the steering feels unresponsive this may indicate ice and your vehicle losing its grip on the road. When travelling on ice, tyres make virtually no noise.
Uphill – avoid having to stop part of the way up by waiting until it is clear of other cars or by leaving plenty of room to the car in front. Keep a constant speed, choosing the most suitable gear well in advance to avoid having to change down on the hill.
Downhill – reduce your speed before the hill, use a low gear and try to avoid using the brakes. Leave as much room as possible between you and the car in front.
And of course, wear comfortable, dry shoes for driving. Snow-covered boots will slip on the pedals which can cause an accident, especially in these conditions.
All of the above guidance is taken from the Gov.UK website.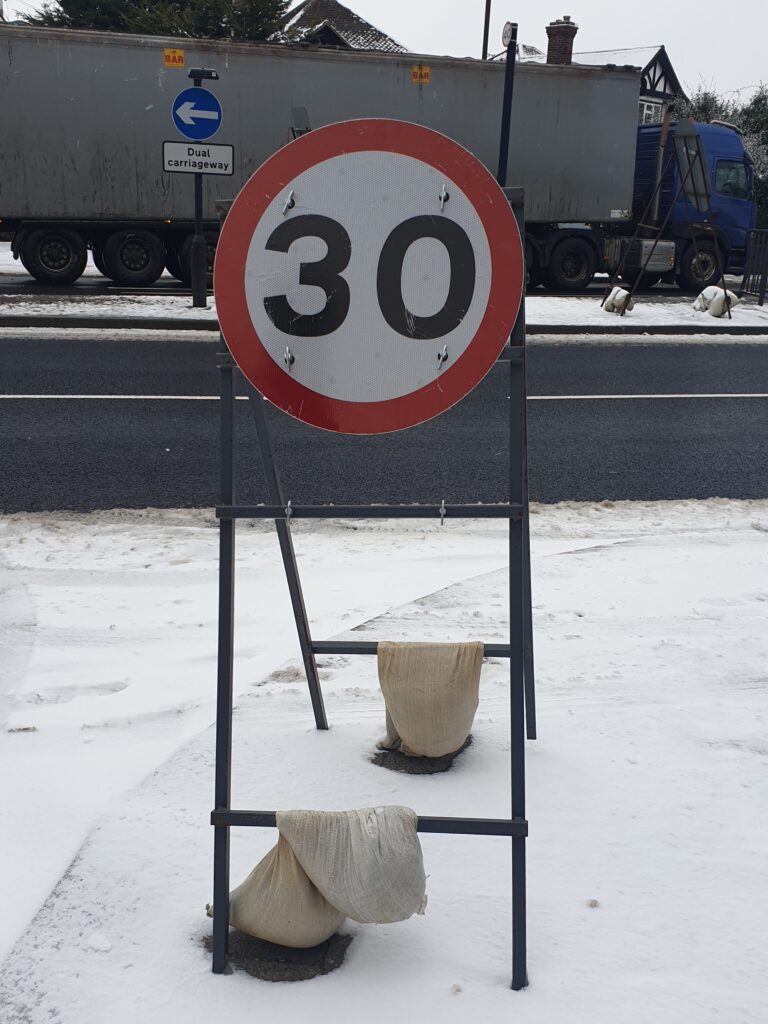 Although driving lessons in Southend and the rest of the UK are not currently going ahead due to lockdown restrictions, we hope that we have been able to offer you some advice for driving in these conditions. However, for the future, your driving instructor will explain to you how to drive on the road, if and when a lesson arrives on one of our wonderful, wintry, snowy days. If you can get your head around it, you will discover that it is one of the most valuable driving lessons you will ever have.
Remember if this applies to you as a holder of the full driving licence, then there is no shame in approaching a driving school such as A Pass 4 U and requesting a driving lesson to help you get over this obstacle. Driving lessons are not necessarily just for learners but are also there for fully qualified drivers that may need that bit of extra help or want to brush up on a few things. So, if you fancy updating your skills, to enable you to drive responsibly in the snow or are too afraid to go out on your own to learn, then remember this is what driving instructors are for. You will not be judged negatively in taking this course of pro-active learning, to boost your confidence and make the roads safer for you and other drivers.
And of course, before any lesson which may take place during snowy conditions, our instructors will always assess the risk on a day-to-day basis depending on the situation and the pupil's level of experience. They would never take you out on a lesson if they believe it may be unsafe.
In the meantime, please remember to wrap up warm and stay safe!
Category
Tags