Congratulations to Esther Brown who passed her driving test this week! Esther passed after completing a 25 hour intensive driving course in Southend-on-Sea.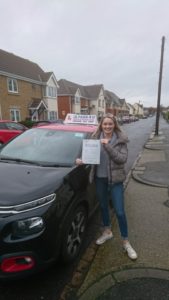 Her instructor, Richard Hills, said "Esther has been a pleasure to teach, keep practising everything which you have learnt and I am sure that I will see you on the roads soon!"
I hope you enjoy this new driving experience Esther! 🙂
The following two tabs change content below.
Tony has been involved in the driver training industry for the last 10 years. Running a network of approximately 200 instructors, through
APass4U
and
Kudos Driving Instructor Training
he insists that standards are always kept high. Tony is a fully qualified Approved Driving Instructor and is a key member of the Road safety events team within Essex helping to raise awareness of the dangers on the road.