Passed Pupil – George Smith – Portsmouth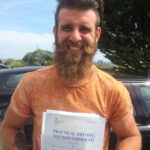 Another happy first time pass with us. George Smith has just passed his test in Portsmouth with our instructor Paul Matthews getting a total of 3 minor faults and a, "very well done", from the examiner !!
Great effort from George over the course, superb result, now go and enjoy the freedom with your family remembering to always be safe out there!!