So you're a learner driver who is buying their first car. Do you know what an MOT is?
An MOT is a test which is carried out by authorised MOT test centre, to check the roadworthiness of your vehicle. (Look out for the blue sign with the 3 white triangles – this identifies they are authorised.)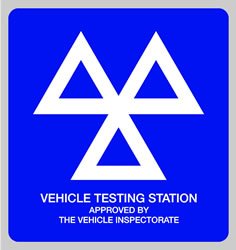 Presently you need to arrange for an MOT on the third anniversary of the vehicle registration – or – if it's older than 3 years, the anniversary of its last test.
You can be fined up to £1000 for driving without an MOT.
Did You Know:
1. An MOT lasts for 1 year
2. The date it runs out is printed on the last test certificate
3. You can renew an MOT up to a month(minus one day) before the test date and keep the same renewal date
4. Cars and motorcycles made before 1960, don't need an MOT
5. Nor do tractors or goods vehicles powered by electricity
Nearly 50% of all faults found on MOTs could be avoided by carrying out regular, simple maintenance, like replacing bulbs, wipers and tyres. GOV.UK
Common MOT fails
You can avoid the common MOT fails by checking:
lightbulbs are working – 30% of all faults related to lighting and signalling
Before you take your car for its MOT – check for blown bulbs. These can be easy to replace. A tap sometimes lets you know if they are loose or damaged. Replacement bulbs are relatively cheap. You can even buy them in many supermarkets.
tyre condition and pressure – 10% of all faults related to tyres
You need to check the tread of your tyre and ensure that it does not drop below the legal limit of 1.6mm. Check your tyres for bulges. Ensure there are no cuts or other signs of damage.
mirrors, wipers and washers – 8.5% of all faults related to 'Driver's view of the road'
Check that your windscreen wipers and washers work. They should be replaced if they show signs of wear or if they're not cleaning the windows. Any large chips which obscure your view out of your windscreen, means it should be replaced. This would be an MOT fail. You should not have any air fresheners, stickers or toys which obscure your view.
brakes
1 in 10 failures are due to brake problems. Make sure you check your brakes before setting out everyday. Ask your A Pass 4 U driving instructor to show you how to check your low/high brake fluid reservoir, so that you can top up when necessary.
On GOV.UK you can now check the MOT status of a vehicle. Replace a lost or damaged MOT and check that you are not buying a stolen vehicle.