Zero faults for Gayle in Lowestoft!
An outstanding result from Gayle Stevenson who passed her driving test,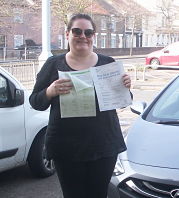 not just 1st time but with "0" minors. Gayle's driving instructor Jeremy  Thomas said "I am so pleased, she worked hard and got a fabulous result!"
Gayle took a short intensive driving course in Lowestoft to get this great result.
A massive congratulations to Gayle.