Intensive Driving Courses works for Keira- Lee
What a result…. Having never driven before Keira-Lee Smith took an intensive driving course in Lowestoft with A Pass 4 U driving instructor Jeremy Thomas and passed 1st time in Lowestoft today. Keira-Lee didn't just pass she kept her cool and got just 2 minor driving faults.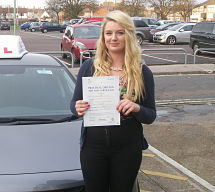 An excellent result for Keira-Lee and it shows that given the right tuition you can pass 1st time. Congrats Keira-Lee.