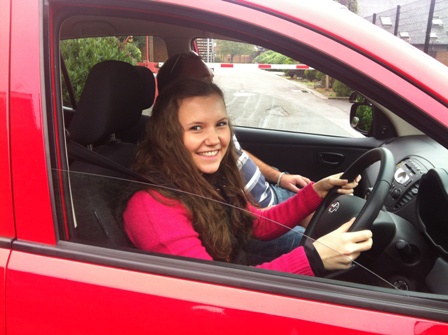 There are many reasons for choosing either way, in which to learn to drive. Affordability may be the main factor for most, when deciding on the non professional route and there are many ways, in which utilising both relatives or friends and a driving instructor can benefit a learner pupil.
Sometimes it is easier to start off with an Instructor. Learning the correct habits from the off, is easier than having to break bad habits later on and a Pupil may find it easier to accept instruction from a Professional rather than Mum or Dad, who has just spent the last 45 minutes discussing the finer points of keeping a bedroom tidy!
No matter how good a driver your friends or relatives may be, there is no substitute for a reputable, professional driving school or driving instructor, if you decide to pay for driving lessons.
No matter how good a driver your friends or relatives may be, there is no substitute for a reputable, professional driving school or driving instructor, if you decide to pay for driving lessons.
Learning with an Instructor
A Driving Instructor has trained specifically to teach a Person how to drive and it is their responsibility, to keep up to date with relevant law changes, as they happen and to share that information and learning adaption with their pupils, when necessary.
A Driving Instructor will focus on the 'action' whilst a pupil is learning to drive, as opposed to the result, because the intention is to teach 'safe driving for life' not to teach you to pass a test. (Although passing the test is a learner pupil goal.)
In a stationary car, a driving instructor will first of all discuss the topic for the lesson. Talk through it with you, using visual aids to enhance pupil understanding. Then comes the dry run, when you will sit in the car without moving and they will take you through the actions for the chosen topic. Then comes the actual action of what you have been discussing.
Then…
You do it!
Once done, stopping in a safe position, your driving instructor will discuss with you, your performance.
A driving instructor will plan the route that they are going to take with a pupil. A parent may not know what is an appropriate or inappropriate route. A well planned route enables a learner to make fewer mistakes. An inappropriate route can lead to the pupil learning slowly and cause a decrease in motivation. An Instructor will know where to take a learner on the first couple of lessons to help build confidence and rapport, checking out any previous driving ability a pupil may have.
Remember whoever you pay must be an approved Driving Instructor (Green Licence) or a Potential Driving Instructor(pink licence) by Law.
Driving with friends and relatives
You can be fined up to £1,000 and get 3 to 6 penalty points on your provisional licence if you drive without the right supervision.
Anyone you practice your driving with (without paying them) must:
be over 21
be qualified to drive the type of vehicle you want to learn in, eg they must have a manual car licence if they're supervising you in a manual car
have had their driving licence for 3 years
It's illegal for the person to use a mobile phone while they are supervising you.
'L' and 'D' plates
If you're a learner driver you must put 'L' plates on prominent places on the front and back of your vehicle. You can use either 'L' or 'D' plates in Wales.
Record your progress
You can download a 'Driver's record for learner drivers' to track your progress with your driving instructor and private practice.
Things To Consider Before Teaching Your Kid To Drive.
#staycalm
Do you have the ability? Although it may sound easy. The emotional involvement a parent has with their child, can lead to a few frayed tempers and stressful lessons when taking a trip out in the family car. Not to mention some crunching of the gears.
#Highway Code
Are you up to speed with the knowledge in the Highway Code? Do you know it backwards and forwards, inside and out. When you drive, do you know what all the squiggly lines mean, painted on the tarmac and what the signs mean on the poles. Unsure? Either do some research before teaching your kid to drive or leave it to the professionals.
#slowdown
Can you explain clearly the meaning of the instruction you are giving the learner driver? Part of a Driving Instructors training involves learning how to instruct, then learning how to instruct a Pupil, this enables them to provide the learner driver with clear instructions and allows them to understand what is expected of them during their lesson.
Still Think You Might want to teach your kid to learn to Drive?
See if you can answer some of these questions taken out of the Highway Code:
What type of sign is a red triangle?
What Speed should you use in a built up area, unless directed otherwise?
How do you know if a vehicle is roadworthy?
What is a hard shoulder for on a motorway?
What is the overall stopping distance at 30 miles an hour?
What should the legal breath limit for alcohol not exceed.
When supervising a learner pupil does the same legal alcohol breath limit apply to the Supervising driver?
What does a flashing amber traffic light mean at a crossing?
All diamond shaped signs are for who?
What are the three main things, you as a Supervising driver should be looking for as your pupil approaches a roundabout?
The Highway Code applies to England, Scotland and Wales. The Highway Code is essential reading for everyone.
The most vulnerable road users are pedestrians, particularly children, older or disabled people, cyclists, motorcyclists and horse riders. It is important that all road users are aware of The Highway Code and are considerate towards each other. This applies to pedestrians as much as to drivers and riders.
Many of the rules in The Highway Code are legal requirements, and if you disobey these rules you are committing a criminal offence. You may be fined, given penalty points on your licence or be disqualified from driving. In the most serious cases you may be sent to prison. Such rules are identified by the use of the words 'MUST/MUST NOT'. In addition, the rule includes an abbreviated reference to the legislation which creates the offence. See an explanation of the abbreviations.
Although failure to comply with the other rules of The Highway Code will not, in itself, cause a person to be prosecuted, The Highway Code may be used in evidence in any court proceedings under the Traffic Acts (see The road user and the law) to establish liability. This includes rules which use advisory wording such as 'should/should not' or 'do/do not'.
Knowing and applying the rules contained in The Highway Code could significantly reduce road casualties. Cutting the number of deaths and injuries that occur on our roads every day is a responsibility we all share. The Highway Code can help us discharge that responsibility. Further information on driving/riding techniques can be found in 'The Official DSA Guide to Driving – the essential skills' and 'The Official DSA Guide to Riding – the essential skills'.
Category
Tags