With all the talk of who is to be the next James Bond on social and traditional media ( I do like the idea of X-Files Gillian Anderson being the first female Bond) now Daniel Craig is hanging up the mantle. It led me to thinking about the James Bond Cars which have been shown in the movies over the years.
It wasn't until I drove a 1966 Austin Healey, through the cobbled and busy streets of St Andrews, Scotland, did I understand car envy and the appeal that these vehicles can have for many. So for a bit of fun. I thought I'd share with you, some of James Bonds famous cars from over the years and allow you to imagine people looking at you, driving one of them and giving others car envy!
Did you know the Aston Martin DB10 driven in the latest movie Spectre, was auctioned off for charity – raising funds which went towards Médecins Sans Frontières (MSF), and other charitable organisations and the United Nations Mine Action Service. (UNMAS) Its selling price…£2,434,500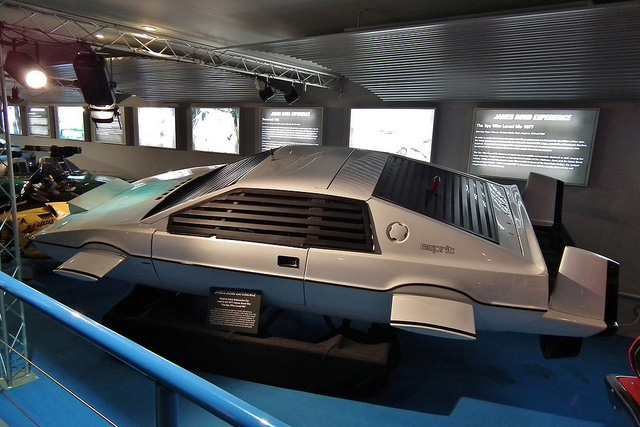 Having grown up in the seventies and being a great lover of the movies. I have happy memories of visiting the cinema with my Nan, Mum, Dad and Sister – scoffing popcorn and watching James Bond – who was Roger Moore – strut his stuff like some cool, outrageous Uncle, with his witty one liners and beautiful co-stars and I'm not talking Pussy Galore or Honey Ryder.
For me – the cars were the main attraction and none so beautiful as the Lotus Esprit from the movie The Spy Who Loved Me.
If you'd like to check out more of Matt's, James Bond photography, then pop on over to the official James Bond Website. The James Bond cars – are currently on display in Convent Garden at the Bond in Motion Exhibition at the London Film Museum.
Ticket prices:
Full price – £14.50
Child Ticket – [5-15years] £9.50
Concession Ticket – £9.50
[Students, 65 + and freedom pass holders]
Family Ticket – £38
Under 5 – Free
GIFT TICKETS AVAILABLE.
Category
Tags