Driving your own car may be the end goal of wanting to pass your driving lessons but have you thought about all the fun vehicles you could try, once you have?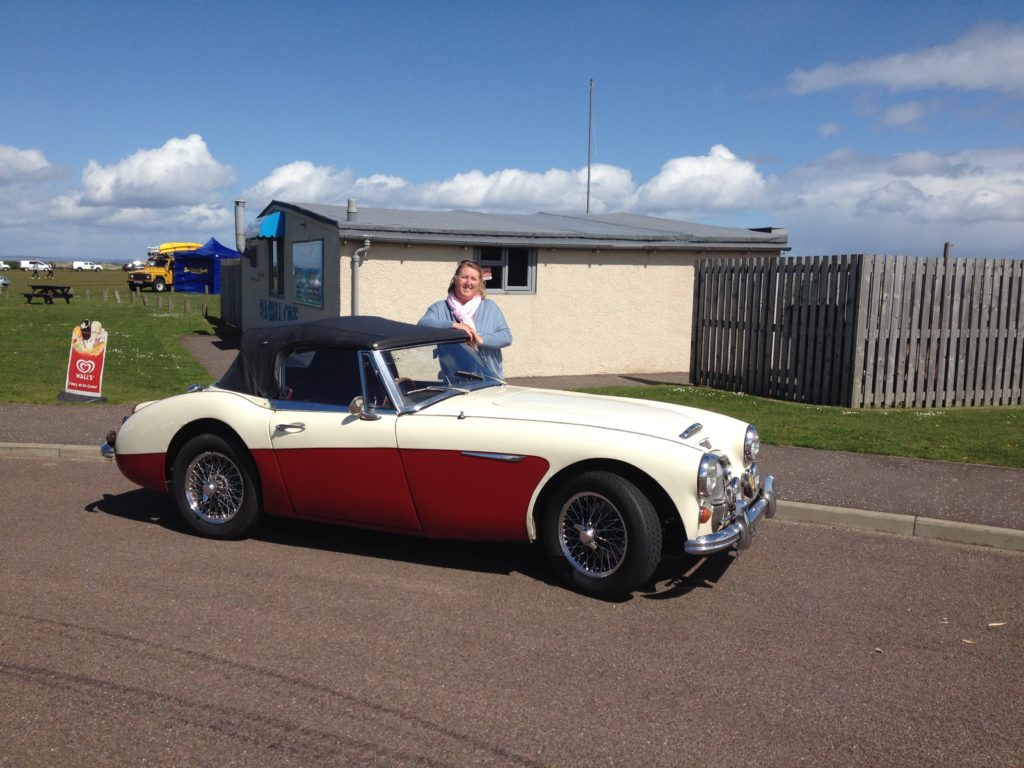 Recently on a trip to Scotland – I was invited on a Classic Car drive. My car-a 1966 3000 MK111 Austin Healey. I fell in love with straight away. Was it her two tone, red over old english white body colour or her red leather interior, maybe even the walnut dash.
With a Cash value of £60.000, if i'd allowed myself to worry about her cost, I wouldn't have got behind the wheel at all. Especially not whilst driving through the picturesque town of St Andrews and along the Firth coastal road.
The car is described by the hire car company Caledonian Classics as having 'serious grunt' and I soon discovered this for myself.
Slipping behind the wheel would have been easier, if I'd been a skinny 7 stone but my 5 foot 3 inch height was a perfect fit. I could reach the peddles – which was lucky – as the state of the art  seat positioning, was achieved by stuffing one or two cushions behind your back. The chair does not move. Unnervingly my rear view mirror was on the dashboard in the centre and it took me a while to adjust to it being there.
The steering was a lot lighter than I imagined-I'd pictured me having to drag the wheel heavily, to enable me to drive the road bends appropriately, but she was a dream and we tore up the tarmac, as the wind whistled in our ears. The only time the steering needed more force than a modern car, was when I attempted a three point turn in a car park. That took some serious effort.
I found out that to drive a classic car – you needed to use your physicality more. The gears were challenging to get in, unless you depressed your clutch fully and used your whole body to connect with 1st to 4th. No fifth gear here but i've found out she had overdrive. Not something I knew when driving her – or I could have got more out of the engine as we flew along!
One of the things I enjoyed more than anything, was the attention she received as we made our way through the saturday traffic in the busy town of St Andrews. I couldn't help myself but sit at the traffic lights and lightly press my foot on the accelerator. A gentle kiss I liked to think of it as. So that she throatily chuckled at the crowds.
Many heads were turned. We were given the thumbs up sign many time from men, as we growled along the narrow streets. She was definitely a looker.
In fact she definitely turned my head. By the time we returned, I was reluctant to let the keys go. I had fallen in love with her sultry, temptress ways. She had me in the palm of her hand.
I was so glad that I'd experienced a classic car drive. Or I wouldn't have known the difference between the improvements which are made, to ensure safer and easier driving nowawadays and the magnificent machines from yesteryear, which engage us and encourage a more physical connection when driving. I find myself feeling whimsical about the experience and wonder with each step forward with living a modern life. Do we lose a sense of personal engagement.
What do you think. Would you like to drive a classic car?