In the UK you can only apply for a driving licence through the DVLA – Driver and Vehicle Licensing Authority.
To start you will need to apply for a provisional licence which allows you to start to learn to drive and take the tests required, the tests are,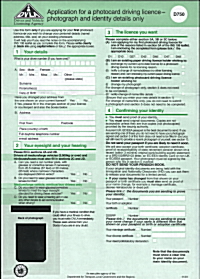 Theory and Hazard Perception tests
Practical tests
To apply for a provisional licence you must meet the following criteria,
British Resident
Meet the minimum age – Car 17 years of age
– Motorcycle 16 years of age
Must not be prevented from driving – Banned
– Medical reason
Meet the minimum eyesight requirements – be able to read a car number plate from 20.5 metres away.
Be able to pay £50.00
Provide ID – Normally Passport or Birth Certificate and another form
Must be able to provide 3 years of addresses
To apply for a licence you can do it in 2 ways either by post using a D1 pack, which can be found at all Post Offices, DVLA or order one online from the DVLA offices or do it all Online.
To apply for a driving licence online you must first open a government gateway account and then apply for a licence.
Applying for a government gateway account please visit www.gov.uk
Once you have applied for your licence you will normally wait for 14 to 21 days before receiving your licence. Please note that you must keep both parts, photo card and paper counter part, of your driving licence safe, as you will need them both when taking a theory or practical test.
If you have any problems receiving your licence please call your local DVLA office who's telephone number can be found on https://www.gov.uk/dvla-offices
Remember that your picture part of your driving licence only lasts 10 years and must be renewed to keep your driving licence valid.