Header Image: © Copyright David Dixon and licensed for reuse under this Creative Commons Licence.
The Sun is out and there' lots to celebrate and none more so than the many students that are learning to drive in the Tilbury and Grays area who are benefiting from the outstanding service by the driving instructors working with A Pass 4 U in Tilbury and Grays. Artan, Louise, Garth, Tony and Sean are having a great run of passes at the Tilbury test centre at the moment with many 1st time passes.
Tilbury test centre can be found at
Montana House
Russell Road
Tilbury
Essex RM18 7AE
Where you will find a small car park where you will start your test from and some of you may even find yourself doing a bay park exercise as part of your test from there you will find yourself on one of the many test routes that go out through Tilbury, Chafford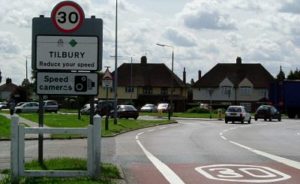 Hundred, Grays and Stifford Clays. On these test routes you will find a vast range of challenges including small and large roundabouts (including Treacle Mine), country roads, dual carriageways as well as the usual roads and junctions found around any large town.
At South Essex College recently I attended a Roadster event which looks at many of the road safety issues around Essex and I explained how there are many ways of learning to drive in and around Grays and Tilbury including hourly lessons or intensive driving courses. An intensive driving course is normally arranged with 5 hours driving per day and the last hour on the last day is your driving test of course there are breaks built into this to stop you getting too tired but this can mean that you are on the road in a little more than a week. You may wish to use the traditional driving lesson route of an hour or 2 per week which will take you longer but would be the preferred route for people with the challenges of dyslexia or dyspraxia as well as someone who needs to spread the cost of driving lessons out.
If you are wanting to learn during the summer holidays our instructors are booked up well in advance so please do enquire early or you may find you miss out.
I have recently been given some horror stories of examiners from other test centres but I can from 1st hand experience tell you that the DVSA team based at the Tilbury test centre will give you a straight forward test that is passable presuming you drive at the right standard on the day. They are nice people who want to give you a pass but if you make a mistake it is their job to ensure only people capable of driving safely pass their test.
If you are looking to learn to drive whether to enhance your career opportunities or just to give your social life a lift why not give us a call on 01702 308763 and we'll arrange lessons or a course with one of our fully qualified DVSA driving instructors.