The medieval roads around Shrewsbury can make for interesting driving and with Shrewsbury being the transport hub for local public transport it is a growing town but with its own DVSA driving test at Battlefields Enterprise Park the town is becoming very popular for intensive driving courses in Shrewsbury.
A Pass 4 U Driving School offers many different size driving courses from a 6 hour (1 day) course for people who have just failed a driving test and want to get a few bits ironed out before another test through to a 40 hour (8 day) driving course for those who have never driven before. With 5 hours training per day you will be well prepared for the Driver and Vehicle Standards Agency practical driving test. Our intensive driving courses consist of 5 hours with a fully qualified Approved Driving instructor around the Shrewsbury area during which you will normally take a break half way through to ensure you do not get too tired. With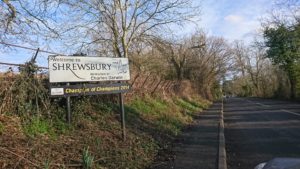 consecutive days you will be building up your knowledge day by day in and around the test routes which will prepare you fully for all aspects of driving and making you a safe driver for the rest of your driving life.
The practical driving test in Shrewsbury will be arranged by our customer service staff as part of your booking and is included in the prices shown on our website. The test my include the manoeuvres,
Parallel Parking
Bay Parking – Reversing into & out of a bay
Pull up on the right exercise
You may also be asked to perform an Emergency Stop exercise as well as well as showing your general driving skills are of a good standard. You will have to drive on dual carriageways, country roads and roads around Shrewsbury town.
You can find the DVSA driving test centre at;
DVSA
Battlefield Enterprise Park
Shrewsbury
Shropshire
SY1 3BF
To find out more about our intensive driving courses in and around Shrewsbury please take a look at our Driving Courses Page.