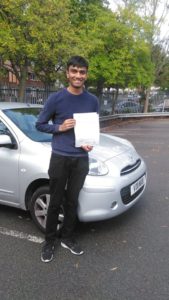 Congratulations to Shyam Shashikant Mistry on passing his driving test first time, in Birmingham. After undertaking a 20 hour intensive driving course, with the instructor Shomuj Ali.
His instructor said "Well Done Shyam on passing especially for you first attempt!"
Impressive stuff!
The following two tabs change content below.
Tony has been involved in the driver training industry for the last 10 years. Running a network of approximately 200 instructors, through
APass4U
and
Kudos Driving Instructor Training
he insists that standards are always kept high. Tony is a fully qualified Approved Driving Instructor and is a key member of the Road safety events team within Essex helping to raise awareness of the dangers on the road.